Archdiocese of Lahore
Blessing of 02 Churches in Sangla Hill by Abp. Sebastian Shaw On March 15, 2023, His Grace Sebastian Francis Shaw,
Archdiocese of Karachi
Rector Fr. Mario said that the event was possible because of the full cooperation he received from the management, the staff and the…
Diocese of Islamabad-Rawalpindi
Week of Ecumenical Unity in Pakistan | Catholics in Pakistan Rawalpindi: In the Diocese of Islamabad-Rawalpindi the Unity week began
Diocese of Hyderabad
Hyderabad: An event was organized for all Christian health care professionals and for their compassionate services to humanity. The program..
Diocese of Faisalabad
The life you have chosen is not a bed of roses, carry your Cross every day and if you are faithful to Jesus, you will be victorious…
Apostolic Vicariate of Quetta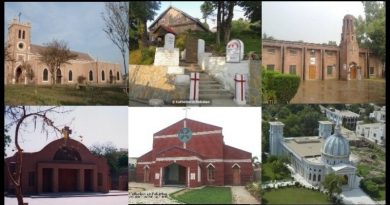 There are 7 ecclesiastical units in Pakistan; 2 archdioceses, 4 dioceses, and one Apostolic Vicariate. This article include all the pictures of all the…
Knowing Your Faith
کیا پاک ماس کے دوران تالیاں بجانا چاہئیں؟ پاک ماس ایک سنجیدہ عبادت ہے۔ اس دوران سنجیدگی اور خاموشی اختیار