Lahore
Sisters of Charity of Jesus and Mary assisted in the preparation of the Liturgy and decoration of the Holy Altar. While Franciscan Tertiary..
Beliefs And Teachings
The verses of "O Come, O Come Emmanuel" remind us that Advent is a journey from whatever despair has seized the human spirit to an active…
Islamabad-Rawalpindi
Archbishop initiated the recitation of Holy Rosary continued by Girl's Hostel, Mother Teresa sisters and children, Caritas Pakistan…
Arzoo Raja Case
Arzoo is to remain in Shelter Home under the upkeep of Social Welfare Department. Further proceedings will be filed relevant court for…
Hyderabad-Pakistan
Hyderabad: Dn. Sunil Ashraf and Dn. Perkho Sonu OFM were ordained as priests at St. Francis Xavier Cathedral in the Diocese of Hyderabad on..
Karachi
Franciscans all over the world celebrate the feast of St. Francis of Assisi on 4th Oct. It is a great tradition of oneness in Christ that…
Faisalabad
The acquisition of a new parish in the Faisalabad Diocese is a source of joy as the congregation is not only re-entering in the Faisalabad Diocese…
Multan
On June 13, 2020 Catholic Diocese of Multan along with Caritas Pakistan Multan Inaugurated St. Peter's Academy for the preparation of CSS special Exams…
Quetta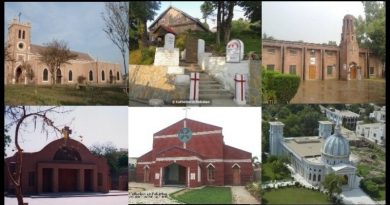 There are 7 ecclesiastical units in Pakistan; 2 archdioceses, 4 dioceses, and one Apostolic Vicariate. This article include all the pictures of all the…