Lahore
Mass of Ordination at St. Francis Catholic Church Kot Lakhpat-Lahore six Capuchin friars were ordained to Diaconate by Archbishop Sebastian..
Beliefs And Teachings
Lent, a 40-day period of prayer, fasting and growing in charity, begins on Wednesday, February 17, 2021. It is an opportunity to curb our…
Islamabad-Rawalpindi
Archbishop initiated the recitation of Holy Rosary continued by Girl's Hostel, Mother Teresa sisters and children, Caritas Pakistan…
Arzoo Raja Case
Arzoo Raja Case: After an unexpected turn of events, Learned Judge has granted post arrest bail to pedophile, Azhar Ali, on a surety bond …
Hyderabad-Pakistan
Hyderabad: Dn. Sunil Ashraf and Dn. Perkho Sonu OFM were ordained as priests at St. Francis Xavier Cathedral in the Diocese of Hyderabad on..
Karachi
Franciscans all over the world celebrate the feast of St. Francis of Assisi on 4th Oct. It is a great tradition of oneness in Christ that…
Faisalabad
The acquisition of a new parish in the Faisalabad Diocese is a source of joy as the congregation is not only re-entering in the Faisalabad Diocese…
Multan
On June 13, 2020 Catholic Diocese of Multan along with Caritas Pakistan Multan Inaugurated St. Peter's Academy for the preparation of CSS special Exams…
Quetta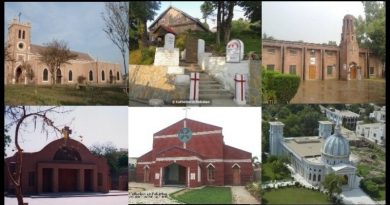 There are 7 ecclesiastical units in Pakistan; 2 archdioceses, 4 dioceses, and one Apostolic Vicariate. This article include all the pictures of all the…