Diocese of Islamabad-Rawalpindi
The diocese has a long history, as it was originally erected in 1887, as the Apostolic Prefecture of Kafiristan and Kashmir. The prefecture was erected from the Diocese of Lahore.
In 1947, the Apostolic prefecture was elevated to a full diocese, and renamed the diocese of Rawalpindi.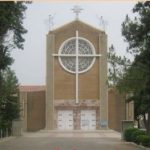 In 1952, Kashmir was lost to the diocese, and a new diocese created from territory in Rawalpindi and Lahore to create the Apostolic Prefecture of Kashmir and Jammu.
In 1979, the name was changed to the Diocese of Islamabad-Rawalpindi. The diocese is a suffragan of the Archdiocese of Lahore. It comprises the Khyber-Pakhtunkhwa Province, the Federally Administered Tribal Areas, Azad Kashmir and the Northern Areas, Gujrat District of Gujranwala Division, the Rawalpindi Division, and the Sargodha Division. In 1996 the Diocese opened Our Lady of Lourdes Minor Seminary which is its preparatory seminary. The former vicar general of Faisalabad diocese, Father Rufin Anthony, was appointed Coadjutor Bishop to Bishop Anthony Theodore Lobo of the Diocese of Islamabad-Rawalpindi by Pope Benedict XVI on 4 August 2009. He succeeded Bishop Lobo as Bishop of Islamabad-Rawalpindi upon the acceptance by Benedict of Lobo's resignation on Thursday, 18 February 2010.
Ordinaries:
Domenico Wagenaar, M.H.M. † ( 1901 Appointed – 1915 Died)
Robert J. Winkley, M.H.M. † (24 Oct 1916 Appointed – 1 Nov 1930 Died)
Giuseppe Patrizio O'Donohoe, M.H.M. † (26 Jan 1934 Appointed – 1947 Died)
Nicholas Hettinga, M.H.M. † (24 Jul 1947 Appointed – 26 Dec 1973 Died)
Simeon Anthony Pereira † (17 Dec 1973 Appointed – 22 Mar 1993 Appointed, Coadjutor Archbishop of Karachi)
Anthony Theodore Lobo † (28 May 1993 Appointed – 18 Feb 2010 Resigned); Bishop Emeritus
Rufin Anthony † (18 Feb 2010 – 17 Oct 2016 Died ); had previously been Coadjutor Bishop
Joseph Arshad (8 Dec 2017 to date) previously Bishop of Faisalabad