Signs & Symbols can open our eyes to the deeper truths: Abp. (Emeritus) Pinto
KARACHI: (CV Report) On Saturday, February 25, Catechetical Centre launched two books written by a priest of the Archdiocese of Karachi at a well-attended ceremony here, presided over by His Grace, Archbishop Emeritus Evarist Pinto and Mr. Shameem Khursheed, principal of St. Patrick's College. Prominent priests, religious and faithful graced the occasion.
Nishanat wo 'Alamat [Sign and Symbols] and Ghar aur Gharaney ki Barkat [House Blessing] have been authored by Fr. Arthur Charles a well known Professor of Dogmatic Theology, Director of Catechetical Centre and a man who uses media for education, formation and evangelization. His efforts in this regard are outstanding.
Also Read: CCK launches Archbishop Pinto's book "Meeting Jesus in John"
However, less well known is his interest in history, liturgy, art, sign and symbols as demonstrated with the publication of his latest books. "Through his own initiative and ingenuity, he has achieved a unique command of the sources for these subjects. Indeed, these books are a rich source of information," said Archbishop Pinto.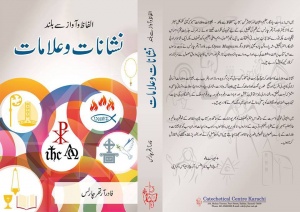 A Dominican Brother Azhar Lal paid tributes to the writer and said he was the first author who is also his teacher who has written such voluminous books. He is a marvellous writer and a theologian. While introducing Nishanat wo 'Alamat he said that it gives a lot of useful information and has helped me understand the symbolism behind many things. At 460-pages with illustrations this hardcover reference book is chock full of fascinating tidbits on the origin, lore and associations of hundreds of signs and symbols.
In the book, from simple shapes and numbers, crosses to triangles, colours to flowers, symbols permeate art, myths, signs and symbols in the Holy Bible, Liturgy and Sacred Art are explained through text, illustrations and iconography. Grouped thematically and comprehensively cross-referenced.
The book on House Blessing was introduced by Mr. Anwar Daniel president of the Lay Fraternity of St. Dominic. He gave congratulatory remarks and said this book is different in that it provides a whole book full of blessings for different parts of a house and household things. It does not only give the rites of blessing but also highlights the power of prayer and blessing. He said the book remarkably contributes to academic and religious studies.
Emeritus Archbishop Evarist Pinto paid tribute to Fr. Arthur Charles on the launching his two new books. He described the priest's contribution as Opus Magnum and his intellectual life as enormous. As a reference book for writers, researchers, artists or the insanely curious, this book provides extraordinary insights into the patterns, archetypes and symbols found throughout Holy Bible, Liturgy, art, history and modern surrounds.
In his address, Archbishop Evarist Pinto stated, "Wherever we live, we are surrounded by symbols, if we choose to see them! We can go through life ignorant of this rich imagery, or we can open our eyes to the deeper truths inherent in much that surrounds us. For those interested in exploring the philosophical, biblical, liturgical and the theological, a world filled with symbols is infinitely rich and rewarding, leading us to a greater understanding of ourselves and bringing a fresh perspective to our lives."
"This exhaustive work by Fr. Arthur Charles examines signs and symbols in their myriad forms, including the history and origin in drawing. Moreover, this encyclopedic work explores the rich and diverse meanings of hundreds of symbols, delving into the power of signs and symbols in the past and present worlds of religion, art, literature, history and archaeology," said the Archbishop.
The Archbishop noted that apart from his own works, Fr. Arthur Charles publishes books of other writers as well. "Personally, I have no idea where he gets the time and the energy to do all that he does."
He said Fr. Arthur Charles has done "an enormous service to the local church. But perhaps, the equally important contribution which he makes is to the intellectual standing in which he is held in our country."
Fr. Arthur Charles was joined by his colleagues, parishioners from various Parishes of the Archdiocese and friends to celebrate the significant milestone.
Typical of Catechetical Centre publishing, these books are a delight to thumb through. They are beautifully put together from front to back. The pictures and artwork are excellent. They are a great resource for everyone.
The Book Launch ceremony was broadcast Live through Good News TV Network.
Books are available in The Catechetical Centre and the Bookshops of the Daughters of St. Paul throughout the country.
Total Page Visits: 518 - Today Page Visits: 1